Every summer in the Adirondacks, there is an abundance of musical series in the towns and villages that dot the Adirondack Park. One of those towns, Tupper Lake, offers two free musical series on Monday and Wednesday nights throughout the summer, if you're able to escape to this remote Adirondack outpost.
Tupper Lake is located in Franklin County, located in Adirondack Park. Tupper Lake makes up the Tri-Lakes region with nearby Saranac and Lake Placid lakes. The village was first settled during the city's lumber production period in 1844, making the village New York State's premier lumber producer.
Since 1976, Tupper Lake has been celebrating its artists and artisans who make up the small community. Before Tupper Arts, there was the Tupper Lake Arts Council, then called Tupper Lake Presents. Throughout the 80s, 90s and early 2000s, the Arts Council remained strong, including beginning the annual tradition that is the Tupper Lake Arts Show, now entering its 49e year.

In 2018, current Tupper Arts Vice President Louise McNally led the planning for the Arts Council's re-establishment as the community entity it is today. With 11 board members, the Arts Council was rescued and renamed Tupper Arts and incorporated as a 501(c)3 nonprofit organization to enable fundraising to begin building involvement arts at Tupper Lake. Tupper Arts has grown and established a tradition of year-round programming to engage the community and provide easy access to the arts, through gallery exhibits, classes for all ages, live performances and community events. .
Tupper Lake Municipal Park is located on Demars Boulevard off Route 3. This park is the center of the Tupper Lake community. The park is home to the best sunset views, a waterfront walkway, picnic table area, two covered fishing lookouts, public boat ramps, a playground, sports fields, skateboard park and much more.
All summer shows at Tupper Lake City Park are FREE, with shows starting at various times and ending at 8:45 p.m. (9 p.m. July 4 only).
Tupper Lake Monday Summer Sunset Series Lineup
July 4 – Evening School and Spring Street
Night School is a five-piece dance-rock band from Tupper Lake, performing some of the hottest dance hits past and present, from the Beatles to the Talking Heads, Rick James to the B-52's. Spring Street is a unique blend of old and new rock, blues and strong vocal harmonies that make Spring Street a must see when visiting the Tri-Lakes area.
Hours: 4:30 p.m. – 6:30 p.m. Evening School, 7:00 p.m. – 9:00 p.m. Spring Street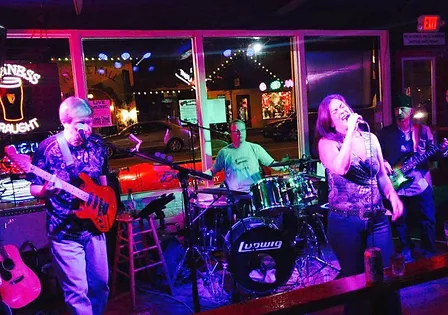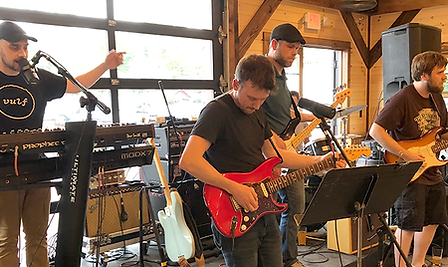 ​July 11 – Ursa and the Major Key
Ursa and the Major Key is an indie/psychedelic rock band from Plattsburgh, NY. Their debut album, Daytime/Nighttime, is available now on Cricket Records. Hailing from the scenic Adirondacks region of New York State, the quartet infuses influences from classic artists such as The Beatles, The Grateful Dead, Pink Floyd and The Band, as well as modern artists such as Whitney, Beach Fossils and Levitation Room.
Hours: 7:00 p.m. – 8:45 p.m.
July 18 – Geo Beat
Geo Beat returns in the Summer Sunset series, an instrumental guitar and vibraphone duo that plays jazz standards, Brazilian bossa nova classics and originals.
Hours: 7:00 p.m. – 8:45 p.m.
July 25 – Dark Side Skinny Dippers
Darkside Skinny Dippers, often known more affectionately as the world's biggest hashtag #DSKINNYD, became a fierce rock band that defined the course of music history from the late 70s to the mid 80s. Recommended by 0 out of 10 doctors, the band all but guarantees a baby boom that would rival the mid-40s-mid-60s. In short, #DSKINNYD is best described as diverse rock and roll with an attitude! There is a little something for everyone.
Hours: 7:00 p.m. – 8:45 p.m.
August 1 – Shakespeare in the Park: A Midsummer Night's Dream
The Adirondack Lakes Summer Theater Festival returns with an abridged version of A Midsummer Night's Dream A family production of Shakespeare's A Midsummer Night's Dream will feature all of the play's beloved characters , including Royals, Rustics, Lovers and, of course, Fairies. This abridged version, directed by Karen Lordi-Kirkham, will last between an hour and fifteen minutes and an hour and a half and will take place outdoors.
Starring: Mason Barber as Nick Bottom; Jadzia Briggs, Angeliq Hammie, Kirsten Denis and Dante Giacovelli as the lovers; George Cordes, Fred Balzac, Dave Myers and Monica Bills as Rustics; Mike Corey as Egeus/Philostratus; and Karen, Ted, Christabelle and Felonica Kirkham as Royals and Fairies.
Hours: 7:00 p.m. – 8:45 p.m.
August 8 – Martin and Kelly
The incredibly talented duo of Jilly Martin and Ryan Brooks Kelly have become New England's next hottest act in Nashville. Over the years they have been featured as support acts for many traditional and mainstream country artists. Standouts in today's crossover country music scene, Jilly & Ryan's songs bridge the gap between traditional country and new country.
Hours: 7:00 p.m. – 8:45 p.m.
August 15 – The Big Takeover
Led by charismatic Jamaican-born singer and songwriter Nee Nee Rushie, seven-piece New York band The Big Takeover play original music that is grounded in and respectful of Jamaican pop genres and rhythms: reggae, rocksteady, ska. They are followers of Desmond Dekker and the old school way. At the same time, The Big Takeover crosses borders and mixes traditions like global pop fusionists. Their deceptively complex arrangements and big hooks connect with the spirit of Motown and the uptown sophistication of the 21st century retro soul and R&B revival scene.
Hours: 7:00 p.m. – 8:45 p.m.
August 22 – The Bob Stump Band
Bob Stump and his band present a collection of American sounds, including a mix of Bluegrass, blues, country, rock and jazz. Based in the Hudson Valley, Bob enjoys traveling the North Country and sharing stories through his music.
Hours: 7:00 p.m. – 8:45 p.m.
Tupper Lake Wednesday Summer Sunset Series
July 6 – The 3
​On 3 is the partnership of Jim Boucher, Eric Pasternak and Josh Pratt. Their music spans the 70s and 80s, through to a few modern covers, showcasing harmonies, guitars, mandolin, ukulele, and percussion.
Hours: 7:00 p.m. – 8:45 p.m.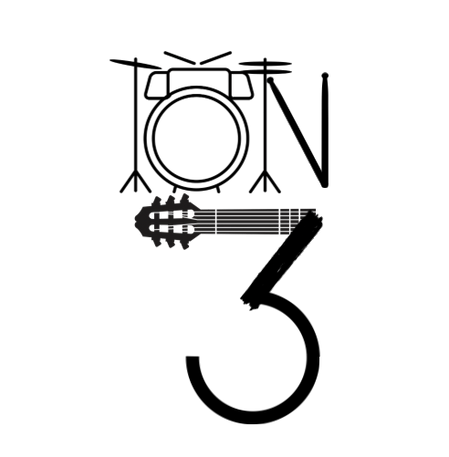 July 13 – Altered tones
Hours: 7:00 p.m. – 8:45 p.m.
July 20 – Larry Lee Ebere
Chazy-born country singer Larry Lee Ebere got his start singing with his family at a young age. Since then, he has been traveling and singing for 25 years, and notably ranked 16th in the Nashville Talent Showand was also featured in country life.
Hours: 7:00 p.m. – 8:45 p.m.
July 27 – Claire & Mickey
Hours: 7:00 p.m. – 8:45 p.m. Military Band
Location: Lake Tupper Sunset Scene, Flanders Park, Lake Tupper
August 3 – Crackin' Foxy
Crackin' Foxy is a ukulele-focused ensemble with tight vocal harmony and tight instrumental arrangements. The Saranac Lake-based quintet draws inspiration from traditional New Orleans jazz but plays with a fresh, joyful energy all its own. Influences include the Boswell Sisters, Anette Hanshaw and Django Reinhardt as well as vaudeville and early 20th century Hawaiian music.
Hours: 7:00 p.m. – 8:45 p.m.
August 10 – Bittersweet
Bitter-Sweet offers over a century of combined musical entertainment experience, and it shows! From the 70s to the 2000s, they lived it, playing classic rock favorites for decades. A seasoned group of North Country professionals have as much fun playing as the audience watching, listening and dancing. Bitter-Sweet consists of ever-wild natives Tom Snye, Dave Fischer, John LeFebvre and Steve Adams.
Hours: 7:00 p.m. – 8:45 p.m.
August 17 – Rustic Riders
The songs of The Rustic Riders "are jumpy and danceable and carry a message of love. A bit of percussion and a variety of instruments keep things fresh, and they're really good at getting the crowd laughing and singing along. Sarah Craig, Executive Director of Caffe Lena
Hours: 7:00 p.m. – 8:45 p.m. Military Band
August 24 – Blessid Dirt
Tereson Dupuy and Eric Pasternak form this beautiful acoustic duo grown in the Adirondacks called Blessid Dirt. Both singer-songwriters, their original music is full of life experiences that most can relate to. Classified as heavy-folk, they were influenced by greats like John Prine and Led Zepplin. New York native Eric dazzles listeners with mean, dirty strings and brilliant lyrical balance. While New Orleans transplant Tereson adds a bit of soulful southern charm, making this duo something to behold.
Hours: 7:00 p.m. – 8:45 p.m.