While feature films tend to grab headlines, the real cornucopia of cinematic offerings at a festival come from the short film showcases. This year's SpIFF presents nine groups of short films – separated into various world films, animation, LGBTQIA+ and the North West clusters – and these are some of the emphatic stars of the pack.
BEST HISTORY TALE LIMITED
IT'S HIM (American shorts)
This short is basically a simple phone call between strangers with a previously unknown connection that lasts about 10 minutes. But in that abbreviated timeframe, writer/director Thea Duncan Brooks is able to solidly establish two characters, develop and alter their relationship, build emotional stakes, and deliver a satisfying conclusion.
CUTEST ANIMAL
INK (Animation Showcase)
While you might not think ink-spitting octopuses are the cleanest animals, the pink mollusk at the center of this terrific animated short is a real cleanliness freak. The effective wordless storytelling is reminiscent of top Pixar shorts.
BEST UNTOLD STORY
JUMP INTO THE FIRE (Best of the NW)
Did you know that during World War II, the Army created an all-African American parachute unit? And did you know that their only deployment was smokejumpers in the Pacific Northwest? Learn about the unit's story as told by founding member, Second Lieutenant Walter Morris.
BEST USE OF MUSIC

SCIENCE SCIENCE LITTLE STAR (World Shorts II)
The famous lullaby becomes a repeated touchstone for a vibrant life lived through music in this surprisingly moving Chinese short film.
BEST USE OF METAPHOR
BEFORE THE ERUPTION (LGBTQIA+ narrative shorts)
This tender Spanish short film finds a group of young adult pals on a summer trip to a once volcanic region, as a friend prepares to begin the transition. The parallels of tension, change and reformed terrain are handled with a skillful and loving touch.
BIGGEST GUT-PUNCH
OUTSIDE THE CONSULTATION CABINET (World Shorts II)
The central plot point of this Chinese short film is a girl who collects the belongings of her father, a doctor who died fighting the COVID-19 pandemic. And that's not even the most emotionally heartbreaking twist in the film. Oooooof.
MOST REALISTIC COVID-ERA REPRESENTATION
AIMEE VICTORIA (LGBTQIA+ narrative shorts)
While a deaf lesbian couple's displays of love in front of each other's windows make this short incredibly sweet, it's the awkward FaceTime calls and careless consumption of ice cream in bed in a mildly depressed state that truly feel painfully faithful to our pandemic times.
LONG LOST BEST FRIEND
SNORRIE (MUSTACHIO) World Shorts I
It's always interesting to catch up with old friends when you return to your childhood home. It's even more remarkable when you unexpectedly meet your old imaginary friend, as is the case with Freek when he returns home to take care of a difficult family matter.
Click to enlarge
BEST OF SHOW

OLD DOG (Animation Showcase)
It's hard not to fall in love with the old pug at the center of this adorable little animated short. The fact that he mirrors his aged guardian to a T only makes him more lovable.
THE MOST FRIENDLY GHOST
GU (Spokane + PNW manufacturers)
With apologies to Casper, the titular ghost at the center of this comedy short seems like a pretty cool roommate (even though he's slightly unaware of his ghost situation).
THE SADEST ANIMATED SHORT
SMALL BEEF (Animation Showcase)
The unique and fluid animation style of this Belgian short draws attention, but be warned that the story could be as harsh as the desolate tundra over which oxen roam.
BEST COUPLE
ANA AND EL DRAGO (World Short I)
In terms of sheer viewing pleasure, it's hard to top this arty Spanish short. There's a high-end music video feel, as two attractive young people search for connection in a cascade of gridded images to fill the screen.
BEST USE OF COLOR
PRIDE OF LIONS (Animated Showcase and LGBTQIA+ Narrative Shorts)
This brief, poetic tribute to a gender-nonconforming friend who passed away is elevated to another level thanks to the bright neon colors that make the tribute pop.
Click to enlarge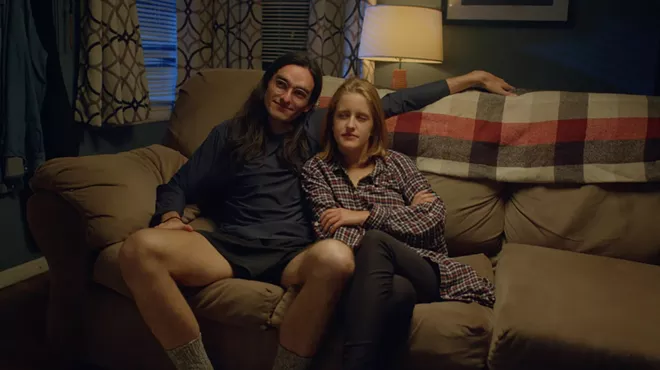 WEIRDEST/CHEESIEST TOUCH

MY FIRST NATIVE BOYFRIEND (American shorts)
At its core, this short fights with a white girl apologizing for her past microaggressions on her new native boyfriend. But I could give you 100 guesses on how it ends and you never You understand. ♦