It's almost spring and you know what that means? It's time for Apple to release a bunch of new products and accessories to match. This year, that drop includes several new Apple Watch band colors, along with matching iPhone 13 and iPhone SE cases. There's even a new color scheme for the Magic Keyboard, Magic Trackpad, or Magic Mouse.
Apple's Silicone Cases with MagSafe provide protection without adding unnecessary bulk. To help usher in Spring 2022, there are four new colors for the iPhone 13 lineup.
Blue Fog, Eucalyptus, Nectarine, and Lemon Zest are each available for iPhone 13 Mini, iPhone 13, iPhone 13 Pro, and iPhone 13 Pro Max. These silicone cases will work with your chargers, MagSafe wallets and any other MagSafe equipped accessory.
For the new iPhone SE, Apple has a unique new color of its silicone case called Abyss Blue which looks more like a navy blue to us. This shade of blue joins Chalk Pink, Midnight and Product Red. Keep in mind that the iPhone SE doesn't have MagSafe, so the cases will also lack the magnetic feature but will offer easy access to all buttons and the Lightning port at the bottom for charging.
iPhone SE Silicone Case ($35 at Apple)
Apple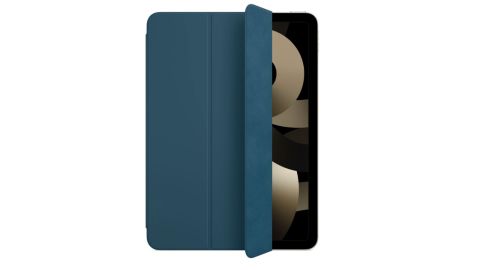 Apple
Along with the newly announced fifth-generation iPad Air, Apple has updated the Smart Folio for iPad Air with two new colors. Marine Blue and Dark Cherry join the pre-existing Mallard Green, Electric Orange, white, English Lavender, Deep Navy and black.
The Smart Folio case is designed to protect the iPad Air screen and back. The part of the folio that covers the screen also folds down to act as a stand to prop up the iPad Air – either for watching a movie or a FaceTime call, or at just the right angle for typing on the numeric keypad or sketching out an idea with a Apple Pencil.
Smart Folio ($79 to Apple)
Apple Watch bands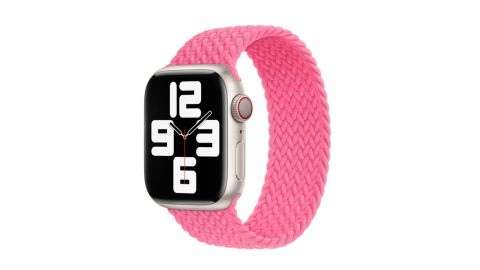 Apple
Apple's Braided Solo Loop has received four new colors: Flamingo, Bright Green, Abyss Blue and Starlight. Flamingo looks like a hot pink, while Bright Green has neon green vibes. This band is a single woven piece of polyester yarn that aims to fit snugly around your wrist. You'll want to gear up for one of the Solo Loop bands by going to an Apple Store and asking for help or printing out Apple's size guide at home (follow the links below to view the bands and guide). Trust us, it's no fun ordering one and not getting a size that fits you. In addition, it is soft to the touch and resistant to water or sweat.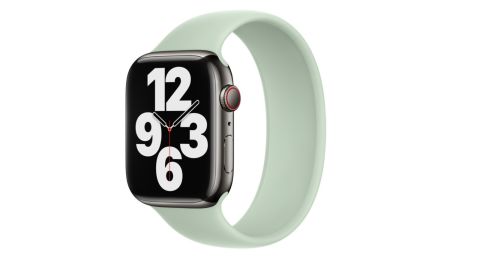 Apple
Apple Watch's Solo Loop band hasn't been spared the spring festivities. The Solo Loop is now available in Nectarine, Lemon Zest, Mineral Green and Eucalyptus. Rather than soft fabric, the Solo Loop opts for a single piece of fairly comfortable liquid silicone rubber. Again, you'll want to make sure you're ordering the correct size Solo Loop tape, so be sure to use the tool Apple has available on the Solo Loop tape page, or go to a store and ask for size help.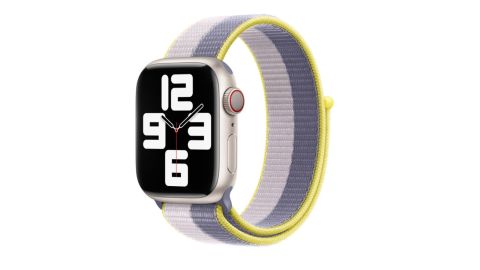 Apple
The Sport Loop band for the Apple Watch has a few new options, all of which contain new color combinations instead of a solid color like the Solo Loop and Braided Solo Loop. The new color combinations are Lavender Grey/Light Lilac, Nectarine/Peony, Oat Milk/Lemon Zest, Midnight/Eucalyptus, and Blue Jay/Abyss Blue.
You don't have to worry about the size of the Sport Loop because the strap is adjustable. The Sport buckle can fit snugly or loosely, and closes with velcro. However, if you have large wrists, you might want to consider ordering an Extra Large band (Apple says this is for wrists that measure 170-245mm).
Sports strap

Apple
Apple's classic silicone sport bands for the Apple Watch got both a vibrant color treatment and a unique muted color option this year. On the fluorescent side, there are Bright Green and Lemon Zest. The more muted color option includes Blue Fog. The Sport Band is one size and versatile enough for a day at the office or in the classroom, as well as for workouts.
Mice and keyboards

Apple
Apple's Magic Keyboard with Touch ID and a numeric keypad now comes in a fresh, clean black color. To be clear, the entire case isn't black – the new color simply refers to the keyboard keys with a silver backing. You can of course always order a model with white keys. The Magic Keyboard includes a dedicated button with a Touch ID fingerprint sensor to unlock your Apple Silicon-equipped Mac.
Magic Keyboard with Touch ID and numeric keypad ($199 to Apple)
Apple
Of course, to match the new black Magic Keyboard, Apple also released an all-black version of its Magic Trackpad. The black model comes after Apple previously discontinued the Space Gray version, leaving Apple owners with the only option of a white trackpad. Just be aware that there is markup for added color. The white model is $129 while the black version is $149.
Magic Trackpad (black) ($149 to Apple)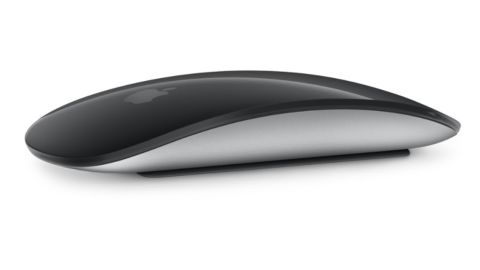 Apple
Last, but not least, Apple released an all-black version of the Magic Mouse. And, yes, the charging port is still down here, which means you have to flip it over to plug it in and charge it. As with the Magic Trackpad, there is markup for the black version of the Magic Mouse. The white model is $79 while the black version is $99. We recommend opting for the trackpad, especially since it can be used while you charge it.
Magic Mouse Black ($99 to Apple)